Ansible: Season One
Traveling across space and time to make first contact, explorers discover a terrible predator. Now only a band of time travelers stand between humanity and the long dark. For Season Two, go here. For Season Three, go here.
The book is available in MOBI (kindle) and EPUB (nook, tablet, smartphone) editions.
Looking for a non-digital format?
Paperback: This omnibus edition is available at Amazon and Barnes & Noble Online - or try ordering through your local independent bookstore. ISBN 978-1942458067
4 Stories Included in Season One

Ansible 15715
"Please hear me. We are all in danger, the most terrible danger; we are all going to die terrible deaths. If you can hear me, if anyone can hear me, remember these words. Please. Pass them on to your children, and to theirs. You are our one hope..."

Ansible 15715 is a frantic broadcast from the mind of a woman lost in time, a researcher trying to forewarn the human species about an unexpected and terrifying threat.

There is very little chance that anyone will hear her plea.

Unless possibly you.
Ansible 15716
Ansible 15715 was sent to a nightmare world that threatened to devour her, a world of endless dark. But the Ansible 15716 team is sent to a planet that burns beneath a white-hot sun ... a saline desert where immense objects loom on the horizon, completely buried beneath a hundred meters of salt.

When this team's sole survivor finds himself stranded in an alien body, among an alien race, he must search for some connection with home -- or for some connection with this desert species, on a planet so vast, it makes the mind itself a desert.
Ansible 15717
"Imagine a forest ten times that intense, an entire ecosystem of miniature forests growing inside the hollow bole of a tree the size of a spaceport. Then imagine that the tree of such prodigious vitality is not even a tree, but only a kind of flowering weed with an exterior harder than bark, harder than granite. Imagine a single nocturnal blossom that would fill the Al-Masjid al-Haram from one wall to the other, that each night spews into the air millions of airborne spores that burn with light like violet sparks; all it would take is the feather-soft touch of just one against the back of your hand, and you would be dead before you could even gasp.

"This is a world of beauty and strange poisons. An entire species of botanists could not fully catalogue it."

The Starmind Project leaves a cryptic note for the woman who will lead the Ansible 15717 team, inviting her to a planet that makes the Amazon rain forests, now long gone, seem only a pale imitation. One of humanity's foremost botanists, she is reluctant to leave an earth that has only just begun to flower again, but the lure of that alien paradise and the discoveries to be made there is too strong to deny.

And what she finds there, in those distant forests, will shake her to the heart.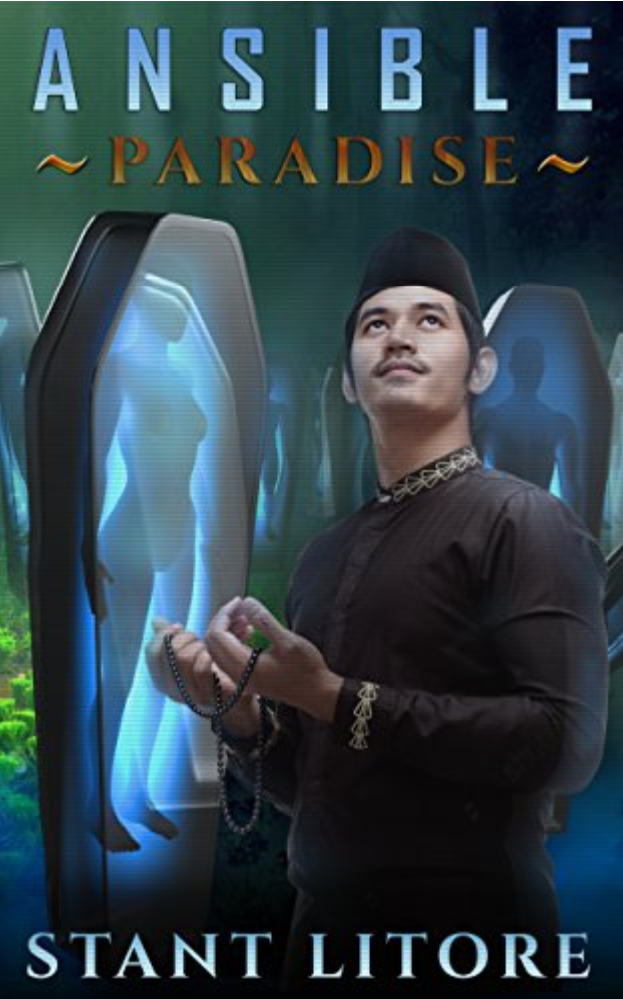 Ansible: Paradise
(formerly titled Ansible 2)

"My mind has touched the stars, wearing a thousand faces."

Deep inside the Starmind facility in twenty-fifth century Arabia, a philosopher-scientist labors to contact humanity's descendants on other worlds in the far future, hoping our grandchildren will hold the secret to healing a world wracked by climate change.

Ignoring urgent messages from kings and ayatollahs, Abdullah Takwan hurls team after team of explorers into the dark seas between the stars. What will he find? What will he be willing to sacrifice to find it? And what answers will come at us out of the dark?

Ansible: Paradise concludes the first season of the Ansible series.
Reviews
"Litore's elegant prose seeps into the soul, stoking our fears of dark labyrinths and the loss of self, of having our direst warnings passed off as madness in a cruel and ignorant world. A chilling and masterful tale." - Allison M. Dickson, author of Strings
"Stant Litore truly weaves a spellbinding story that leaves the reader feeling vulnerable. It is impossible not to become drawn into the world that Stant created..." - Heather Maloney, examiner.com
"Stant Litore's writing is so good and yet so hard to describe. He can be both an angel and a devil all in one. He's an angel for writing such wonderful and thought-provoking stories, and a devil for using those stories to make you want to curl up into a ball and hide." - Must Read Faster
"Ansible 15717 is a story about something weird that has been transplanted into a world to which it is not native, something that infects the fragile ecology of an alien planet. Reading the story, we realize that life is unpredictable. Anything can happen. Just so Litore's stories. They aren't only entertaining. They are stories transplanted into the midst of our lives, unexpectedly. They are beautiful and haunting and unpredictable. You don't read them, really. You encounter them, as you might encounter people. They are those random elements in life that happen to you, like a mugging, like childbirth, like falling in love and marriage, like death and the funeral that follows. They are moments that leave a mark, and leave you changed." – Andrew Hallam, Metropolitan State University of Denver

"With the first stories in the Ansible series, he has pulled off an incredible feat, rendering individual tales that sing the ache of desolation in a register entirely their own while simultaneously building a central premise and an accompanying world that's utterly original, gorgeously pained, and potentially inexhaustible." - Jason Kirk, author of Reverb and The Other Whites in South Africa
Upon purchase, you will be able to download a MOBI or EPUB ebook file.
Please tip the author - show that you want more stories like these!
Purchase
In order to download this book you must purchase it at or above the minimum price of $4.99 USD. You will get access to the following files:
AnsibleSeasonOne.mobi
6 MB
Ansible Season One.epub
282 kB