The Zombie Bible
Biblical tales retold as episodes in humanity's battle with hunger...and the hungry dead. Now, get five novels in a single volume. (These novels can be read in any order; each is a standalone story.)
Death Has Come up into Our Windows
What Our Eyes Have Witnessed
Strangers in the Land
No Lasting Burial
I Will Hold My Death Close
(and an exclusive excerpt from By a Slender Thread)
The book is available in MOBI (kindle) and EPUB (nook, tablet, smartphone) editions.
Looking for a non-digital format?
Paperback: This omnibus edition is available at Amazon and Barnes & Noble Online - or try ordering through your local independent bookstore.
Here's a Quick Recap of Each Volume:

DEATH HAS COME UP INTO OUR WINDOWS
It is 587 BC. A vast army lies encamped about Yirmiyahu's city, and a rebellious king has closed the city gates, locking in the living and the dead together. Now, the things Yirmiyahu sees and the things he must do will call into question every promise he has made, every duty he has sworn -- to his wife, his God, and his city.




WHAT OUR EYES HAVE WITNESSED
Regina endures a death-in-life as a sex slave in the Subura, the ancient world's most terrible ghetto -- until a strange man sees her suffering and gives her a coat, a new name, and a new life. The man is Polycarp, and he has the Gift of gazing into the eyes of the hungry dead and granting them rest -- a Gift that comes at a terrible cost. And ancient Rome may burn him for it.


STRANGERS IN THE LAND
Four must stand against the dead: The aging prophetess Devora. Hurriya, the slave girl. Zadok, a legend among warriors. And the widower Barak, who has sworn to defend his homeland from a migration of walking corpses greater than has ever been seen. In this retelling of a tale from Judges, the strangers in the land must stand together if they are to rid the land of its blight.


NO LASTING BURIAL

A man wanders out of the desert one day and finds a village in ruins after a night of the walking dead. The survivors have thrown the snarling corpses into the Sea of Galilee, only to starve as the ghoul-haunted sea yields no fish. Will the stranger's coming bring back the fish, or the hungry dead?




I WILL HOLD MY DEATH CLOSE
Marked for sacrifice by her own father.... A young woman must rely on only her wits and troubled memories of her mother's faith to survive. Jepthah's daughter flees to the hills, knowing her father and his stone blade may appear at any time to claim her -- while the unburied dead of her people also hunt her in the low ravines.
The cover art is by Lauren K. Cannon.
Future Developments
There is a sixth volume yet to come - By a Slender Thread, a tale of ancient Rome that takes up right where What Our Eyes Have Witnessed ends. In By a Slender Thread, Regina Romae will lead thousands of refugees out of a burning, zombie-infested Rome across the ancient world in search of a new home. This book is in development and is about 800 pages - it's a doorstopper! I anticipate finishing it in 2023.
Cover art by Lauren K. Cannon: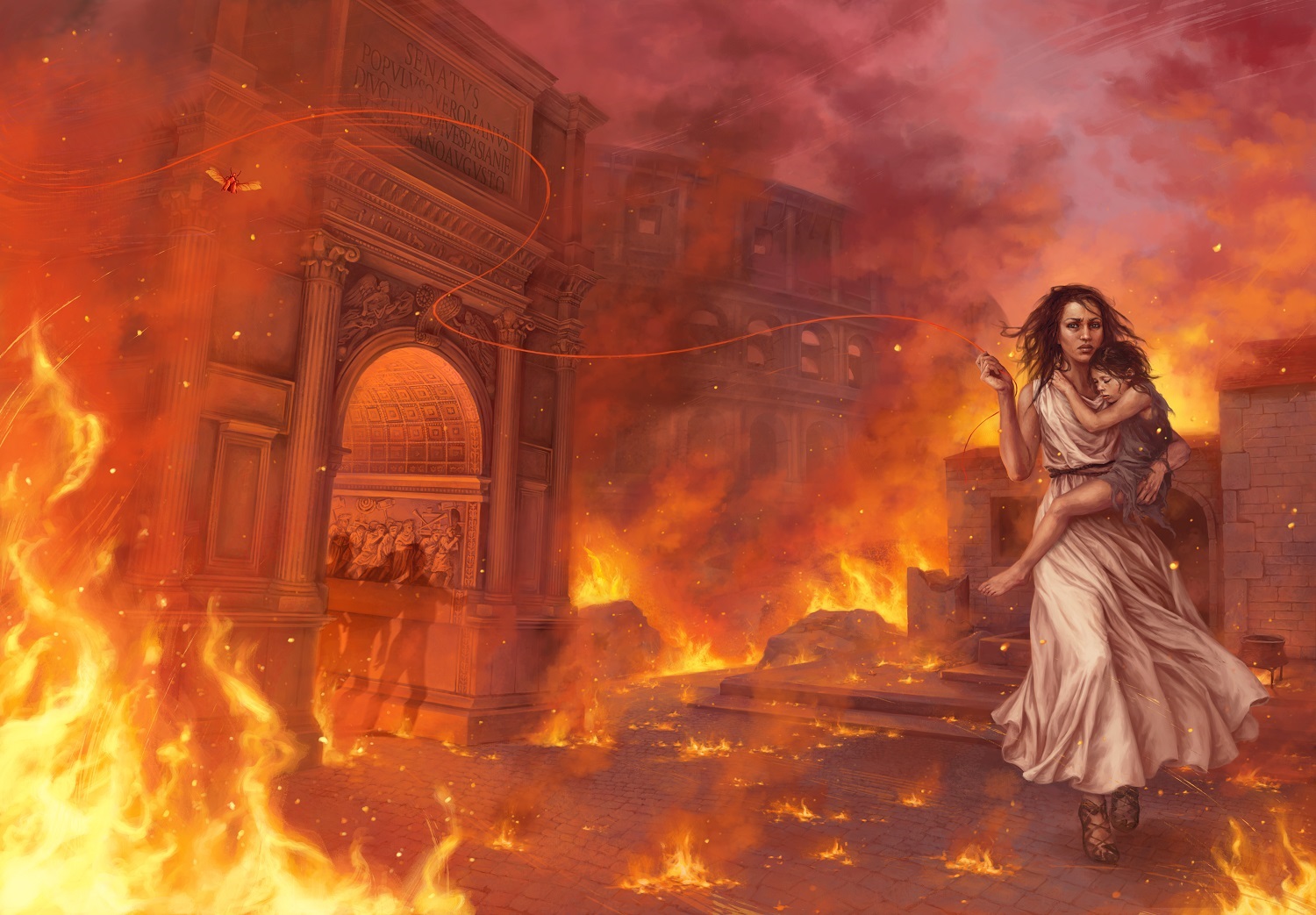 Buy this set of the first five books now and leave a tip for me here on itch.io, and get grandfathered in: you'll be able to get an updated ebook omnibus with By a Slender Thread included when it's released! You won't have to buy the omnibus again, you can just login and get an updated file.
Reviews
"Heartbreaking and wonderful." - Conflictium

"Stant Litore has been doing fascinating phantasmagorical things with zombies in biblical times." - Jeff Vandermeer, author of Annihilation

"I find myself riveted to Stant's prose, not only because I'm eager to find out the characters' fate but because his words are so beautiful. The story has stayed with me days after reading it. I highly recommend." - Denise Grover Swank, author of The Curse Keepers

"Litore's prose is lean and hungry; his characters are faceted all-round like various colored stones; his scenes pulse with blood and life, ring with metal or reek of sweat and undeath." - Marc McDermott

"Stant rebuilds the zombie mythology from the ground up." - Rob Kroese, author of Schrodinger's Gat and Mercury Falls

"Litore's vibrant writing rips the lid off of the King James version and reveals to us a world of intense human hopes, dreams and pathos. You've never seen anything like this before." - Richard Ellis Preston, Jr., author of Romulus Buckle and the City of the Founders

"To say I loved this book would be an understatement. I could not put it down." - The Seattle Post-Intelligencer
Upon purchase, you will be able to download a MOBI or EPUB ebook file.
Please tip the author - show that you want more stories like these!
Purchase
In order to download this book you must purchase it at or above the minimum price of $9.99 USD. You will get access to the following files:
The Zombie Bible.mobi
6 MB
The Zombie Bible.epub
1 MB